More years ago than I care to remember, I was walking with my father in Central Park and we saw a man, literally up on a soapbox, with a megaphone, screaming about how great the Soviet Union was and how terrible the United States was. My father's face turned purple, his jaw worked, you could see how furious he was. My father was a Korean War veteran and he had fought for this country and I totally expected him to lay into that man. Instead he turned to me and said, "That's the difference between America and Russia. In Russia, that guy would be taken out and shot if he spoke against his country like that. Here in America, we let people talk." I'm married to a Russian immigrant who grew up in the Ural Mountains under communism. I asked my husband if what my father said was right. My husband said the common people would beat someone to death if they stood up in public and said bad things about Russia and communism, and if the police or the KGB showed up, they
might
save the speaker. Maybe. Or maybe they would let the people finish the job. That was the Soviet Union, and I felt grateful to be living in America where we have the First Amendment and people are allowed to speak their minds.
At least, people used to be able to speak their minds. In Charlottesville, neo-nazis marched to protest the planned removal of a statue of Robert E Lee. Whatever you think of Robert E Lee, the Civil War, or white supremacy, the protesters had a legal permit to march. They were United States citizens, exercising their rights under the First Amendment. This is not about who agrees with what. I hate neo-nazis as much as the next person, but that's that the point. The point is that everybody, including neo-nazis, has the right to march and protest, as long as it's peaceful. According to witnesses on both sides, the protest became violent because the police did not do their job. They allowed the protesters and counter-protesters to mix it up until the violence became horrific and a car attack mowed people down, killing one young woman.
What's troubling is the large numbers of people who are claiming the counter-protesters had the right to break up the protest. White supremacists have been publicly identified in the hopes they will get fired and/or evicted from their apartments. Yet no one has anything to say about this counter-protester.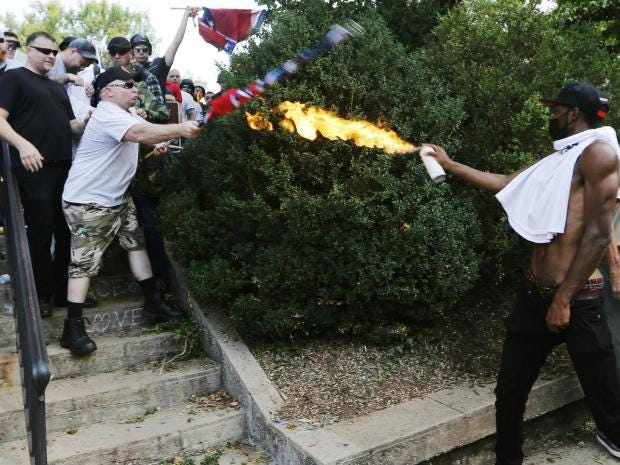 Is this what we do in America now? Allow people to use flamethrowers on someone waving a flag they don't like? Remember this protest?
Remember how Martin Luther King Jr and his marchers were attacked with dogs and guns and fire hoses, and how they were beaten up? The violence didn't come from the protesters, it came from the people who wanted to shut the protesters up. We can't let protesters be lauded when we agree with them, and silenced when we hate what they're saying. The civil rights movement succeeded because of the First Amendment, because as Americans, people had the right to stand up and speak out for what they believed in. In Charlottesville, neo-nazis tried to exercise that right, enshrined in the American Constitution. They were not allowed to have their protest. As Americans, we should all have a problem with that, no matter how much we hate what they wanted to say. A quote often attributed to Voltaire, actually attributable to Evelyn Beatrice Hall, goes "I disapprove of what you say, but I will defend to the death your right to say it." We must defend everyone's right to free speech, no matter what we think of it, or free speech will disappear for everyone everywhere.
Tweet